Mauritson Wines was a hot tip from Arista owner, Mark McWilliams. The family has been a huge influence in Sonoma's Dry Creek Valley since 1868, producing some of the most expressive, distinctive Cabernet Sauvignons and Zinfandels in the entire region.
Region: Sonoma & Anderson Valley
Winery Location: Healdsburg
Owner: Clay Mauritson
First Vintage: 1998
Winemaker: Emma Kudritzki Hall
Since 1868, the Mauritson family has been growing grapes in the Dry Creek Valley. having first planted vines in 1884. The family's Rockpile homestead and ranch grew to 1,600 hectares by the early 1960s when all but 280 were acquired by the Army Corps of Engineers to develop Lake Sonoma.
The family farming operation moved first to Alexander Valley, then expanded into the benchland of Dry Creek Valley. They currently manage 310 hectares of vineyard spread across Dry Creek Valley, Alexander Valley, and Rockpile Appellations.
In the mid-1990s, Clay Mauritson returned from college with an unexpected longing to get back in the vineyards. Clay was determined to add winemaking to the family operation, honing his winemaking skills and knowledge of winery operations at Kenwood, Taft Street and Dry Creek Vineyards. In 1998 he released the inaugural Mauritson Dry Creek Valley Zinfandel.
Soon after that inaugural release, he took a fresh look at Rockpile AVA and planted 14 hectares to vineyards in eight distinct blocks. The combination of low air moisture, poor soils and moderate temperatures was starting to turn heads. The family farming operation had come full circle. Six generations and more than 150 years later, Mauritson has earned a reputation for outstanding winemaking along with highly sought-after fruit.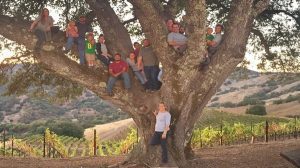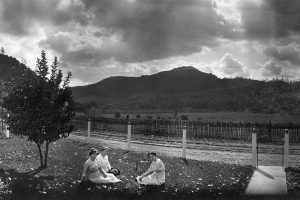 The Rockpile Ridge Vineyard sit in the Rockpile AVA, located at the Northwest edge of Dry Creek Valley AVA where the two appellations actually overlap. Although it is located just 13 miles from the coast, Lake Sonoma provides an inversion layer that prevents the heavier fog that typically blankets other Northern California appellations, allowing for longer, more consistent sun exposure. Moisure and daytime temperatures are regulated by howling coastal breezes and, in many cases, steep slopes and rocky terrain require non-motorised vine management.
The line-up continues with a roll call of stunning sites in Dry Creek Valley, Alexander Valley, and Chalk Hill. Cabernet Sauvignon and Zinfandel from these vineyards brings stunning complexity and a distinctive character to the wines.
Leading the crew in the cellar, Emma Kudritzki Hall's intensity is apparent. It's the same drive that propelled her as an All-American college athlete (she played water polo at U.C. San Diego, where she earned a B.S. in Biology).
After her first grape harvest in 2001, at a boutique winery in the Sonoma Mayacamas Mountains, Emma was hooked. Next came five years of hands-on experience at other wineries close to home and as far-flung as New Zealand. After returning to California and receiving her Enology and Viticulture degree from Fresno State University in 2005, she became the Assistant Winemaker and Viticulturist at MacRostie Winery, where she worked for four years. She joined Mauritson in 2011, was promoted to Winemaker in January 2019, and shares founder Clay Mauritson's belief that the best wines capture a specific sense of place, as well as express the unique conditions of each vintage.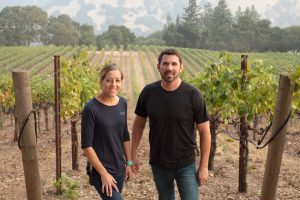 Latest arrivals from Mauritson Wines
Register your interest in Mauritson Wines