Dragonette Cellars has flown to top tier of Santa Barbara Estates in no time at all, and the amazing press just keeps on coming. Their wines are a phenomenon in California, with the new releases flying out to a devoted mailing list. We were determined to show what the fuss was all about with the UK's first-ever allocation in 2022, and the incredible line-up of Pinot Noirs, Chardonnays, Syrah and Sauvignon Blanc became an instant hit.
Brothers John and Steve Dragonette, and close friend Brandon Sparks-Gillis, founded Dragonette Cellars in 2005 after having worked together at a renowned wine shop in Los Angeles. Their shared passion for great wine brought them to wild, windy and remote northern Santa Barbara County where they spent the next several years seeking out extraordinary, cool-climate vineyards and dedicating themselves to careful, patient, minimalist winemaking.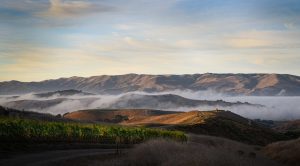 Dragonette focuses on the most exceptional vineyards in the Santa Ynez Valley, where soils run the gamut from ancient beach and diatomaceous earth, to chert and limestone. Their hand-picked sites include: Vogelzang Vineyard in Happy Canyon; Duvarita, Rita's Crown, John Sebastiano, Spear, Radian and Fiddlestix in Sta. Rita Hills; Stolpman and Kimsey in Balard Canyon. They manage their own blocks within each site, giving them complete control from vine to bottle.
The winemaking at Dragonette is a collective effort, with John, Steve and Brandon all taking a serious part in every aspect of production. As vignerons, they have committed themselves, above all else, to the mindful farming of precise blocks in exceptional vineyards for low yields and high quality and to the shepherding of these grapes into wines of purity, complexity and balance. Given the remarkable climatic and soil diversity in Santa Barbara County, Dragonette Cellars produces small lots of Pinot Noir, Sauvignon Blanc and Syrah of interest and distinction.
For the Chardonnays, typically individual blocks are picked in separate passes with field sorting. Within hours, the grapes are gently pressed, the juice settled, then put down to barrels for primary fermentation, which takes place with native yeasts. The wine sees native malolactic fermentation and was aged on its lees in French oak barrels, around one third new, for a total of 16 months.
For the Pinot Noirs, each individual lot is harvested in the cold early morning hours with rigorous hand sorting for quality. The fruit is sorted within hours; in this case utilizing 6% whole clusters. The grapes are cold soaked for 2 to 3 days, then the juice is fermented with native yeasts, using a mixture of pumpovers and punchdowns for extraction. At dryness, free run juice is drained to barrel, and the berries gently pressed separately. The wine is aged on its lees for 16 months before selection, blending and bottling.
With the Syrah, each block is harvested in the cold morning hours, hand-sorted in the field. The grapes are destemmed within hours then cold soaked for 2-4 days, before co-fermentation (with a tiny % of Viogner) by native yeasts. Pumpovers, punchdowns and delestage are used to gently extract flavour, while managing tannins. At dryness, the wines are transferred to French oak barrels of various formats (500L puncheon, 400L, and 228 L barrique) and aged 9 months on the lees, before painstakinga  selection and blending with small amounts of Grenache. The wine is put back down to barrel for an additional 18 months aging before bottling.
Lastly, for the Sauvignon Blancs, the fruit is hand harvested and sorted in a series of selective picks. Within hours, the team gently presses the grapes and transfers the juice directly to a mixture of stainless steel and oak barrels. Primary fermentation was completed in both tank and barrel, with native yeasts and temperature control. Malolactic fermentation was blocked to retain freshness, and the wine is aged on lees for 18 in French Oak (20% new) months before blending and bottling.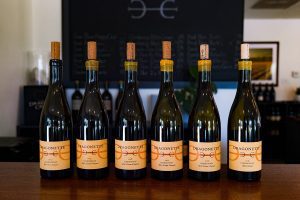 Latest arrivals from Dragonette Cellars