Saxum Vineyards stands as Paso Robles' most important estate and has one of the most exclusive and hard-to-join mailing lists. Almost every single drop is spoken for by California's top restaurants and the winery members-list, but as Justin says: "We like to send all the cool markets a little bit", which of course includes Four Corners Wine here in the UK!
Saxum Vineyards was founded by Justin Smith and his wife Heather in 2002, and their winery is located in the James Berry vineyard which was planted by Justin's father, James Berry Smith, in the 1980s. Justin has played a massive part in making Paso Robles one of California's most dynamic and exciting regions, and is cited as major influence by a generation of winemakers.
Justin is practically a Paso Robles native. He was born in Northern California, but his parents moved to Paso in 1980 when he was 10. His father bought a 55 acre parcel and set about planting the white varietals that were popular in the area at the time. He was advised by a friend to replant with Rhone varietals in 1990, and went about taking out the whites to put in Mourvèdre, Grenache and Syrah. The very early wines showed great promise!​
Justin had never intended to follow in his father's footsteps as a vintner, studying ethnobiology at university (where he met his future wife!). After graduating, Justin and his college buddy Matt Trevisan pooled their resourced to start their own wine label – Linne Calodo. Matt gained experience working with some established wineries, while Justin learned to farm the family vineyard which became an important source of fruit for Linne Calodo.
Having made a name for themselves at Linne Calodo, Justin decided to part from Matt to start his own project – Saxum Vineyards. He had been inspired by 2 bottles of great Syrah – Penfold's Grange 1990 and Jaboulet La Chapelle 1990. He began by trying to emulate them, but quickly saw that Paso needed a different approach, and by the mid-2000s he was starting to make serious waves among critics and collectors.
In 2009, Justin made history when he achieved the first-ever 100-point score for Paso Robles, for his James Berry Vineyard 2007 which Robert Parker hailed as "Utter perfection". He has since been among the top three highest scoring producers in every vintage to date.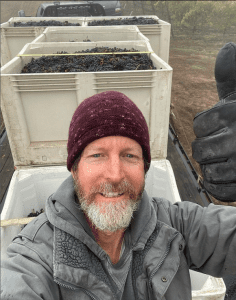 Justin know the soils of Paso Robles better than anyone else, putting him in the perfect position to hand select the vineyards for his wines. The jewel in the crown is his family's James Berry Vineyard, surrounding the winery in the heart of Willow Creek District.
For his non-Estate fruit, it's a veritable who's-who of Paso Grand Crus, including G2, Paderewski, Booker, Denner and Dusi. With fruit of such incredible quality, Justin has the ultimate palette with which to craft his extraordinary wines.
Justin Smith is rightfully a legend in Paso Robles, and a certified dude who epitomises California at its coolest: laid back, a blast to hang out with but incredibly focused on pushing boundaries with his coveted Saxum Vineyards wines. He has also become one of the most sought after consultants for vineyard planting and replanting, including for Epoch Estate's Paderewski and York Mountain Vineyards, and the new generation 'Grand Cru' site, G2 Vineyard.
Latest arrivals from Saxum Vineyards