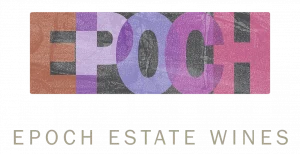 Epoch Estate Wines (pron. 'Epic') is a shining example of why Paso Robles is arguably the most exciting wine region in the World right now, combining a fascinating history with incredible vineyards and innovative winemaking.
Geologists Bill and Liz Armstrong share a similar spirit, one that is dedicated to the purity of science and endless exploration. Bill is a self-diagnosed "cork dork" who realised he wanted to be more than just a wine lover; he wanted to also be a wine producer, and thus set about on a search for the perfect plot of land that would produce wine he and Liz would love to make, drink, and share with family and friends.
While studying oenology in his spare time, Bill's palate quickly took a liking to wines from the Rhone region in France, particularly the Southern Rhone. These wines reflected their unique sense of place, and had a fun/happy factor that was totally up Bill's alley. So, with a specific wine style in mind and a Geology degree in his back pocket, Bill embarked on a quest for the ultimate American terroir that would produce world-class wine.
In 2004, this mission led Bill and Liz to a small pocket of land on California's Central Coast between Paso Robles and the Pacific Ocean. The unique soils, weather, hilliness, and extreme temperature swings found at Paderewski Vineyard were exactly what they were searching for. With the later purchases of the Catapult and York Mountain Vineyards, the Epoch journey expanded.
The winery and tasting room are located on York Mountain. Built in 1882, the original York Mountain Winery has been lovingly restored using the original redwood beams and bricks fired on the property in 1906, to become one of the most striking tasting rooms in California. The state-of-the-art winery and cellars are just upslope, hidden among oak trees.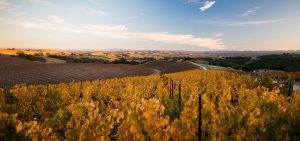 Travel just west of Paso Robles, and you will find Paderewski Vineyard: 27 hectares of vines on undulating, steep, limestone rich hillsides within the spring-fed Estate. In the early 1900's, this vineyard was cherished and farmed by world-renowned pianist, Polish diplomat, and vintner, Ignacy Jan Paderewski. Fast forward a century, and this property stood forgotten and fallow. In 2004, Bill and Liz became the stewards of this amazing piece of property. With a specific vision and mission to bring this historic vineyard back to life, the Epoch story began. It is filled with lean, rocky, and calcareous soil profiles.
Directly in the heart of the Paso Robles' Templeton Gap, near the acclaimed L'Aventure and Booker Vineyards, sits the Catapult Vineyard. Purchase in 2008, these 18 hectares of extreme rocky soils are packed with silicious shale and little limestone content, making it a perfect compliment to Paderewski.
The York family saw something special in this vineyard site 100+ years ago. In the spring of 2015, Epoch began planting vines at this cool climate site (colder than Burgundy). Located just seven miles from the Pacific Ocean at an elevation of 460 metres, this property falls in the small York Mountain AVA.
The soils and climate are very different than the other two vineyards; sand and sandstone soils (some areas look like you are on the beach) along with a very moderate climate due to the even closer proximity to the Pacific Ocean. Due to the elevation and distance from the ocean, York Mountain receives more than twice the amount of rainfall as our other vineyards and has characteristic foggy mornings throughout the year with cool breezes all day long.
Jordan Fiorentini has both an Engineering Undergraduate Degree from Dartmouth College and a Masters Degree in Viticulture from UC Davis. She earned her spurs working at her family's winery in Georgia(!), Araujo Estate in Napa Valley, Antinori Winery in Italy (where she met her husband), and most recently as head winemaker at Chalk Hill in Sonoma.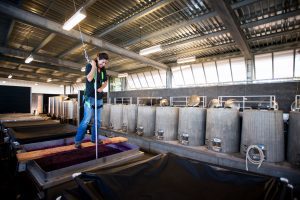 Latest arrivals from Epoch Estate Wines