The spiritual home for Syrah, Grenache may be in France's Southern Rhône, but today's most exciting examples are coming from the sun-drenched, limestone soils of Paso Robles. One man who's played a huge part in this new era is Guillaume Fabre. He's paying ode to the past while keeping his eyes firmly on the future at his Clos Solène Estate, located in the thriving heart of Paso Robles' Willow Creek District AVA.
Region: Paso Robles
Winery Location: Willow Creek District
Owner: Guillaume & Solène Fabre
First Vintage: 2007
Winemaker: Guillaume Fabre
Raised and born in the Southeast of France, Narbonne, Guillaume comes from a family of winegrower/winemakers. After 24 years in Narbonne, he moved in Bordeaux, Southwest of France. Both regions, famous for the wines, are also very different from each other and it requires some winegrowing and winemaking experience to switch from one to the other and deal with the different climates, soils, sickness of the vines and more.
In 2004 Guillaume decided to discover the "New World" wines before taking in charge the family property that his parents just bought in Bordeaux. But life is full of surprises, and Guillaume finally decided to move for good to Paso Robles, California, after he got a job offer when his internship at L'Aventure was ending. The only person he cared about was Solène, his fiancée, at the time, who was studying in Spanish Language in Europe. In 2007, she made the most West to join Guillaume and make Paso Robles their home.
While working at L'Aventure, he slowly developed his own brand, Clos Solène. Two barrel in 2007 became four in 2008 and the production kept on growing over the years. In April of 2014, that Guillaume had to make a choice: Clos Solène needed more attention and time, so he left L'Aventure to work full time on his project.
In 2017, Guillaume and Solène purchased the former Pipestone Vineyard in Willow Creek, a secluded 11-hectare oasis and their first Estate Vineyard.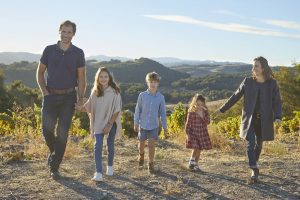 When Guillaume and Solène acquired the Pipestone Vineyard in January of 2017, the existing vineyard was planted in 1998 onto vigorous rootstock. The rows were planted a little wider than Guillaume would have planted, but he felt that it was a great place to start, especially having 20-year-old vines in place. Today, there are 10 different varieties and 16 different clones. Half of the vineyard was grafted to Rhône varieties (Grenache, Syrah, Mourvèdre), their selection based on the soil, mostly shale with steeper slopes. The other half of the vineyard was grafted with Bordeaux varieties, where the soil has a better capability to hold water.
The remaining 2 acres are going to be planted with very selective clones of Cabernet Sauvignon, Cabernet Franc, and Petit Verdot. These 0.8 hectares have deeper soils and will host these special Bordeaux varieties well. The goal for the next 10 years is to be at full production of about 3,500 to 4,000 cases using estate fruit.
In addition, Guillaume purchased fruit from some of the most esteemed vineyards in Westside Paso, including Paderewski, Dusi, G2 and Lara. For the past 10 years, Clos Solène has been purchasing fruit, and will most likely always do so. As a Rhone producer, 90% of the wine he makes is Rhone inspired, but Guillaume likes to play with other varieties to learn and accomplish something he couldn't do in France.
Born and raised in the Southeast of France, Narbonne, Guillaume comes from a family of grape growers and winemakers. After 24 years in Narbonne, he moved to Bordeaux. Both regions famous for their wines are also very different from each other. It requires some grape growing and winemaking experience to switch from one to the other, such as different climates, soil types, vine illnesses and more. But life is full of surprises Not convinced he wanted to make wine in Bordeaux, he took a harvest internship at L'Aventure in Paso Robles. The same bolt of lighting that he felt for Solène, struck again. He fell in the love with the soil and terroir of Paso Robles. What was supposed to be a 3-month harvest internship, turned into 6 months, and he was offered the position of Assistant Winemaker. While working for L'Aventure, he worked day and night on his own project, and in 2007 Clos Solène was born.

Latest arrivals from Clos Solène