SLOAN ESTATE has been producing some of Napa's most revered and highly sought-after wines for over 20 years and remains one of the most private and guarded wineries in the World. It is rightly held alongside Screaming Eagle, Scarecrow and Harlan Estate for its incredible quality and rare exclusivity.
SLOAN ESTATE sits on the eastern hillside of Rutherford, hidden from view among secluded woodland above the prestigious Auberge du Soleil resort. The Estate comprises of a stunning residence and underground winery, and 12 acres of the adjoining Sacrashe Vineyard that was purchased by Stuart Sloan in 1998. He bought in David Abreu to design and plant the vineyard, releasing his first vintage (made by Mark Aubert) in 2000 to great acclaim: "A sign of things to come from this budding superstar" – Robert Parker.
For the 2001 vintage Sloan bought together his dream team of winemaker Martha McClellan and consultant Michelle Rolland who, with David Abreu, and still at the reins to this day. The results were instant with the 2001 scoring 99 RP, and 2002 the first of many 'perfect' wines with 100 RP. Together, Stuart and the team brought SLOAN ESTATE to the forefront of Napa's new generation of elite producers.
An unforgettable visit turned into a stewardship of the land when in 2011, the Pan family and the Goldin Group acquired SLOAN ESTATE. Sutong Pan and his daughter Jenny Pan fell in love with the beautiful wines produced by SLOAN ESTATE the first time they tasted them and were captivated by the breathtaking property the moment they stepped foot on it.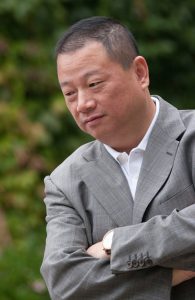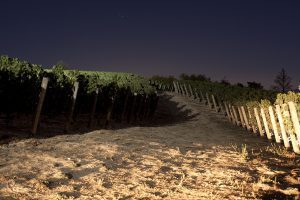 The Estate's flagship wine since its inaugural 2000 vintage, SLOAN Proprietary Red (500 cases made each vintage) is a blend of Cabernet Sauvignon, Merlot, Cabernet Franc, and Petit Verdot. It has a unique character that stems from the Sacrashe Vineyard high above Rutherford. Parker has often likened it to a Mouton/Cheval Blanc hybrid. Layered with remarkable complexity and intensity of flavours and aromas, SLOAN exhibits a gorgeous tension between elements of grace and power, balance, and opulence, as well as age and vibrancy. It is a precise wine with defined structure and immense aging potential and at the same time, a seductive wine of exceptional fruit finesse, minerality, and multi-layered mouthfeel. Crafted with meticulous care from vine to bottle and exacting standards for achieving the highest quality, this uninhibitedly rich and extraordinarily pure wine is a beautiful, raw expression of terroir – a reflection of the soils, climate, and its place of origin.
Since its debut with the 2004 vintage, ASTERISK Proprietary Red (500 cases made each vintage) represents the second cuvée from SLOAN ESTATE, showcasing an alternate yet elegant and compelling expression of the terroir. Charming and bold, it is made from mostly Merlot and Cabernet Sauvignon grapes. Produced under the same obsessive attention to detail and unyielding standards as SLOAN, ASTERISK is juicy and sensual, offering an explosion of fruit aromas and flavours. While it holds the promise of aging potential, it is a splendidly inviting wine that is intended to satisfy the desire for instant gratification.
Martha McClellan earned a degree in Oenology and Viticulture from the University of Geisenheim in Germany, where she spent 10 years perfecting her winemaking skills. In 1995 she joined Merryvale Vineyards where, at the time, Harlan Estate was being made. After the construction of the Harlan Estate winery on Oakville, she was appointed Harlan's winemaker from 1997-2000. In 2001, she took over the winemaking and vineyard direction at SLOAN ESTATE. Both wines see 26 months in French Oak, (Darnajou and Taransaud) 100% new.  Martha and the team process half of the fruit by barrel fermentation and half in stainless steel to help better manage the smaller lots.  All wines see an extended maceration period after a cold soak.
Latest arrivals from SLOAN ESTATE