Realm Cellars has gone from being a rising star to one of the most high-profile and talked about wineries in California, if not the world, in little over a decade. Their wines are among THE most sought after, collectible, and desirable of Napa's crème de la crème.
In just 20 years, Realm Cellars has risen to become a global superstar. The combined energy, dynamism and drive of Managing Partner Scott Becker and Winemaker Benoit Touquette is reflected in a line-up of wines that is redefining Cabernet Sauvignon in Napa Valley. This is manifested in the huge critical acclaim they have achieved, the ever-increasing waiting list for a precious allocation, and the way they are pushing the boundaries of what can be achieved.
Scott acquired the business in summer 2012, restructuring the partnership between founders Juan Mercado and Wendell Laidley who started the label in 2002. Benoit joined Realm in early 2011, and together they have overseen immense progress at Realm Cellars.
The Moonracer Vineyard became their first Estate property in 2016, adding the Farella Vineyard in 2018 and Houyi Vineyard on Pritchard hill in 2022. In addition to a comprehensive and ground breaking approach to replanting and managing these sites, they produced the first wines from their brand-new state-of-the art winery at Moonracer in 2021.
Scott got into the wine business in the mid-2000s, following five years of service in the U.S. Air Force and two years at Harvard Business School. He met Jack Cakebread at a seminar at HBS, and after expressing an interest in the wine industry, Jack took him under his wing. Scott spent every summer and vacation working at Cakebread Cellars, and moved to Napa after graduation without a job offer or a clear sense of where the path would take him. Months later, at a lunch with Jack Cakebread and several Napa Valley vintners, Scott met Bill Harlan, founder of Harlan Estate. A conversation turned into a job offer, and Scott spent a few years working on the foundation of what would become Harlan's newest project, Promontory.
The annual early-Spring release of the Single Vineyard Cabernet Sauvignons, and Autumn release of The Bard and The Absurd have become two of the most anticipated dates in the diary.
Moonracer is Realm's first Estate Vineyard, located in centre of the Stags Leap District on Wappo Hill. It is said this elevated site was important to the Wappo Native Americans as it provided the tribe with a central lookout from which to identify intruders and such. The Wappos, though small in number, were known for their bravery, strength and athleticism. Author Jack London, writing about the curious inter-tribal races that took place during full moons, noted that the Wappos often won these contests. Thus Moonracer, an oblique reference to the earliest inhabitants of the place Realm calls home.
Farella Vineyard is Realm's Estate vineyard in the Coombsville AVA. A fantastically complex site in the foothills of the Vaca Mountain range, the vineyard lies in one of the cooler regions of the Napa Valley. The site features layers of volcanic tufa, red decomposed rock and ashy deposits from ancient landslides, vast geologic episodes that literally turned this vineyard on its head.
Hartwell is at the very top of the property on Wappo Hill. This 2-acre parcel was planted in 1986 by Bob Hartwell, who used cuttings of Grace Family Vineyard's Bosche clone he had acquired from his friend, Dick Grace. 1990 was the first vintage from those vines, and the early wines of Hartwell Estate Vineyards were made at the Grace winery. Realm was given the opportunity to purchase these blocks in 2020, having acquired nearly 20 acres from the Hartwell family in 2015.
Houyi Vineyard is Realm's estate vineyard on Pritchard Hill, purchased from the Chang Family in 2022. Tucked away on the eastern side of Napa Valley, Pritchard Hill is home to some of the best-known wine names in the world. At an elevation of nearly 1300 feet, our 22 acre vineyard sits above the fog line, its vines soaking in the morning sun. The vineyard is full of dense, volcanic rock.
In addition to the four Estate Vineyards, Realm works with a slection of exceptional site throughout Napa, including the famed Beckstoffer Dr. Crane and Beckstoffer To Kalon Vineyards.
Benoit, a native of Bordeaux, also arrived in Napa Valley in the mid-2000s, having graduated from L'Université de Bordeaux with master's degrees in Chemistry and Oenology. Like Scott, he had more promising and secure opportunities elsewhere, but they didn't present the challenge or change he was looking for. With the advice and help of his good friend and mentor, the renowned wine consultant Michel Rolland, he moved to Napa Valley and soon landed an internship with winemaking consultant Andy Erickson.
Benoit's three-month internship eventually turned into a full-time position, and for the next few years – except for a harvest spent in South Africa – he worked side by side with Andy making wine for prestigious brands such as Dalla Valle, Ovid, and Screaming Eagle. It was a fantastic opportunity, one that allowed him to explore the diversity of vineyards throughout Napa Valley. In 2007, anxious to strike out on his own, Benoit formed his own consulting business. One of his first clients was Hartwell Estate Vineyards.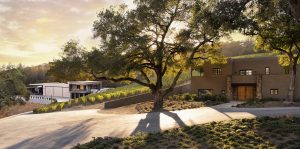 Latest arrivals from Realm Cellars