A multiple award-winning winemaker; the dream vineyard team; a site revered by Napa's top Estates; critical acclaim… The Heimark Vineyard Cabernet Sauvignon commands a place in every cellar and collection.
Libby and Craig Heimark established their namesake vineyard in 1997, nestled high up among the forested hillsides above eastern Calistoga. When covered by morning mist, the property seems to emerge out of thin air as though suspended above the valley floor.
They bought together three of the most respected and knowledgeable figures In the industry to develop the site: vineyard manager Michael Wolf (Scarecrow, To Kalon, Vine Hill Ranch, viticulturist Mary Hall Maher (Haran Estate) and legendary winemaker Tony Soter.
It is a prized source of fruit for some of Napa's most iconic wines, leading up to the Heimark Family releasing their own label in 2016. Many of the great Araujo Estate Cabs were composed primary of Heimark fruit, as has Lail Vineyards' J.Daniel Cuvée Cabernet Sauvignon since 2008. Arkenstone Estate also produce a remarkable single-vineyard Cabernet from this awesome site.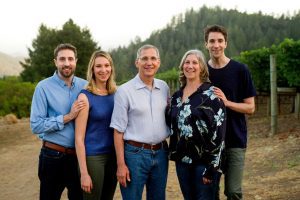 Philippe Melka summed up the vineyard beautifully, saying: "Heimark is like the Pauillac of Napa Valley, with a lot of sophisticated tannins." It's a southwest-facing hillside vineyard planted on an ancient landslide. The resilient vines strive like native plants, seeking water through deep layers of volcanic rock and graphite. This results in intensely flavoured wines with fine tannins, which develop profound complexity with age. Wild turkey, California black bear, and mule deer roam the property and are sometimes spotted stealing grapes or sunbathing at the vineyard's natural reservoir.
After studying enology (winemaking) at the University of California, Davis, Françoise completed an apprenticeship at Château Haut-Brion in France. Françoise Pechson was crowned Winemaker of The Year 2019 by The San Francisco Chronicle, and again as Antonio Galloni's Winemaker of The Year 2021. Her CV includes working with Jean Delmas at Château Haut Brion after graduating from U.C. Davis In California, and 20 years as winemaker for the legendary Araujo Estate. In addition to her primary position at Heimark, Françoise is also winemaker at Vine Hill Ranch (VHR) and Accendo Cellars. It's little wonder Galloni called her "One of the most influential and highly respected winemakers in Napa Valley."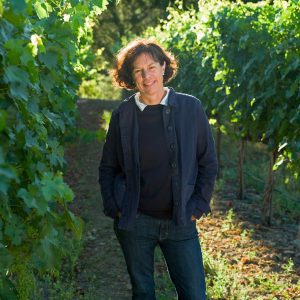 Latest arrivals from Heimark Vineyard